The Old Way of Building Customer Personas is Inefficient and Outdated
Let's have a look at some of the common ways FMCG brands create shopper personas and let's analyze why it's time to move on from them.

The first is expensive market research. 
The information looks well-researched, and everything is organized.  
Yes, there's some value in it. You can use it to spot general trends and it can give you some good insights into the industry overall.  
But it's aggregated information. 
It's not information that you can attach to one specific shopper.  
For starters, you don't have basic contact details like name, email, and cellphone number that can give you direct access.  
Second, the information from it can get outdated quickly.  
Consumer tastes and preferences can shift fast, and these market research reports won't be able to track them in real-time.  
Do you really want to spend thousands of dollars every quarter just to get more 'real-time' information from these market research firms?  
The good news is that there are better cost-efficient methods to create more precise shopper personas which we'll discuss in the next section. 
2. Focus Group Discussions/Interviews
Another way is through interviews. Usually, it involves hiring some people to ask shoppers in the malls or retail outlets.
There are some problems with this strategy.  
For one, most people are usually in a hurry. They don't want to be bothered while they're shopping. It takes time away from spending time with their friends and family.  
If they do indulge, they are likely to just give rushed answers just to get it over with.  
Another disadvantage is you need to hire experienced market researchers to do focus groups well. 
Not everyone in the focus group will be sharing their real thoughts also. Their answers could vary depending on how the others respond. 
All in all, this strategy is an added labor expense you can avoid. 
The work involved is manual and tedious.  
Nothing is automated.  
The problem with using existing rewards programs to conduct market research is that it's often too tedious and manual.  
For example, when a customer purchases at a supermarket, you ask them to line up at the campaign booth to present their receipts or fill out a survey. 
Only then your staff give out the corresponding reward.  
Unless the prize is really appealing, the response to this is often weak and usually just ignored by shoppers.  
If it's an online rewards program, you need to get third-party partners to promote your program and deliver rewards.  
This is time-consuming, and you need to be able to maintain those partnerships.  
Sure, you could blast an ad or send through your email or website to conduct an online survey. 
So, unless you have a great incentive for people to join those surveys, the response rate will be low and ultimately a waste of resources.  
The good news is that there are simpler and more efficient ways to conduct market research, which you'll soon find out. Read on. 
Chatbots and Receipts Scanning are Underrated Customer Intelligence Tools
We are in the midst of the chatbot revolution. 
The chatbot is no longer just for customer service. 
With SKALE integrations like reward and loyalty games, digital vouchers, and smart receipts, a powerful FMCG chatbot can be used together to help you create more precise shopper personas.  
Since WhatsApp is the world's most popular messaging app, it is also SKALE's preferred partner messaging app to integrate our technologies into.
Once your target market is directed into the SKALE WhatsApp chatbot, it collects key first-party information such as name, email, and contact number.  
With this key information, you can now send incentives their way and reward them for their loyalty and consistent engagement with your brand.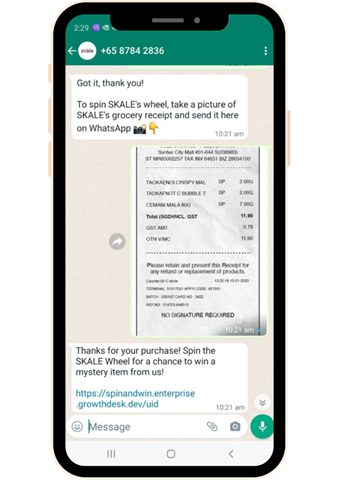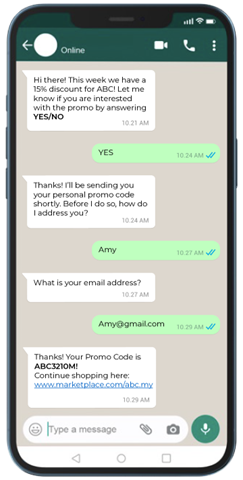 This is the starting point so that any other information you collect through the chatbot will be connected to each shopper's profile.  
And you'll be able to see this in one singular dashboard for easy analysis. 
The truth is that you need to reach omnichannel shoppers wherever they are active in. 
This means reaching them through email, SMS, and in this example, through a WhatsApp chatbot.  
The more avenues you tap, the better chance you can send targeted offers and messages.  
The more data you collect across the different touchpoints, the better you can predict future shopper behavior.  
Collecting Purchase Data is now automated using SKALE's Smart Receipts technology. This is partnered with gamification tools like digital scratch cards, digital vouchers and digital stamp cards so that you can incentivize and reward your shoppers to share their purchase data via receipts.  
Shoppers simply upload their receipts through WhatsApp, your own shopping mall app, a microsite or through your website.  Whichever platform you choose, you can now profile your customers' purchasing habits.  
Research from Accenture shows that 75% of consumers are more likely to buy from a retailer that recognizes them by name, and recommends options based on past purchases.  
You don't need to hire costly manpower to collect and encode receipts data manually.  
It's 2023. Time to use automation tools.  
Your exclusive SKALE dashboard will reveal the buying habits of each of your shoppers.  
Purchase habit data is also important in figuring out the customer lifetime value of each of your shoppers.