A perennial shopper's favorite is the scratch card, except this time in digital form. The digital scratch card is a fun way to engage your shoppers, simply because it gives them the thrill of surprise. 
Imagine waking up, scratching the card and getting an exclusive 25% discount to use with a tenant store.  
It's instant gratification on steroids. They barely did anything, yet it gives them that dopamine boost and with the right incentive can easily push them for impulse in-store or online purchases.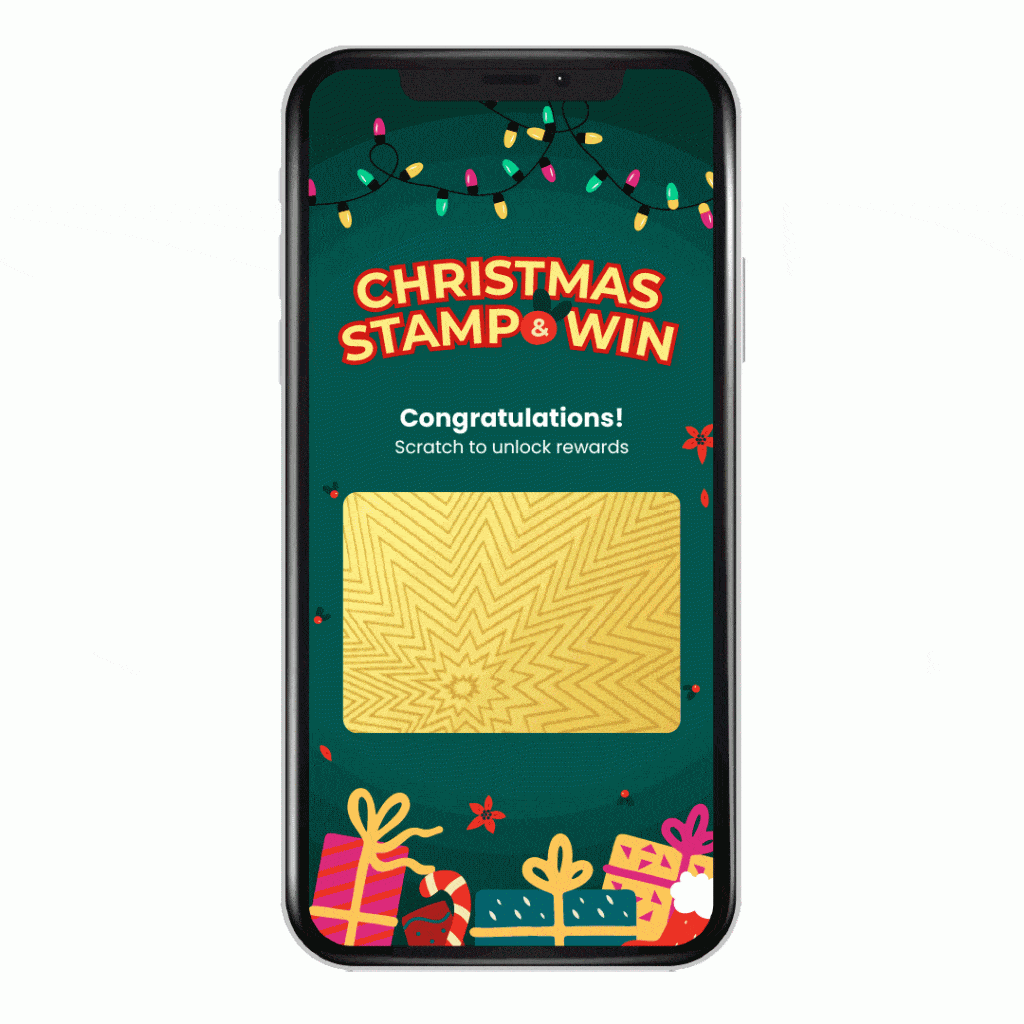 The best part about digital scratch cards is that they're so easy to use and its addictive. You can engage your shoppers daily, as they look forward to getting a reward regularly. Regular interaction is key to building shopper engagement and loyalty and you can easily achieve this with digital scratch cards.  
And because you're also collecting their personal details like email and cellphone number through the digital scratch card, you can drive urgency upon getting a discount or reward. By making the reward time-sensitive, and with constant reminder using email or SMS, the odds of them availing of their discount or reward are strong.  
You can also combine digital stamp cards with digital scratch cards. For example, after completing the digital stamp card, they get a digital scratch card for more rewards. This combination will surely make your loyal shoppers happy because there's the joy in completing the stamp card and the instant joy they can get from the scratch card's prize. 
And you can customize the rewards to ensure that it's something rewarding and lines up with the amount they spent, or effort they gave in completing the stamp card.  
Since Christmas is the next big season to be ready for, you can create a campaign in which your mall can donate a part of the digital scratch card's value to a chosen charity. For example, if they spent a cumulative of $50 in the mall, $2 will go to a charity of their choice (You can predetermine the charities you can partner with for this campaign). This will surely provide a positive boost to your corporate image.  
The truth is that digital stamp cards and digital scratch cards are evergreen technologies. They can be used during any part of the year, but of course the biggest season is Christmas and shoppers are already in the mood to start buying Christmas gifts and preparing for their parties. 
That's why it's important for malls like you realize that these simple technologies can be a gamechanger and help you achieve your marketing goals much faster.  
As a mall marketer, you're always cooking up events. What better way to drive more shoppers to your events than through digital scratch cards? Offer visitors who attend events in your mall a digital scratch card that gives them the opportunity to get a discount or win a prize. By making them spend more time in your mall, it creates that closeness and increases the odds they'll become loyal patrons of your mall.  
A 2019 study by Stefan H. Hock found out that discounts obtained from promotional games always generated a greater likelihood of purchase and overall spending, ranging from 42% to 213% increase. The study found out that shoppers get a confidence boost when they win in a game of chance which then triggered greater buying confidence. Sounds good for your mall!  
Pop-up stores are now a staple in malls. You can create a Christmas-themed area for pop-up stores. To encourage your shoppers to buy from your pop-up stores, your partner tenant stores can offer digital scratch cards whenever they engage or buy in the pop-up stores. 
The rewards in the digital scratch cards can be exclusive discounts that they can use in the main stores. This encourages multiple purchases and increased time spent in your mall.  
Another classic game to help engage your shoppers and deliver a fun shopping experience. We've all seen the physical Spin and Win, and we know that it works. 
There's always that 'almost' feeling of getting the best prize in the wheel and at the same time there's the chance of not getting anything at all. The randomness and the thrill of instant gratification will surely hook your shoppers.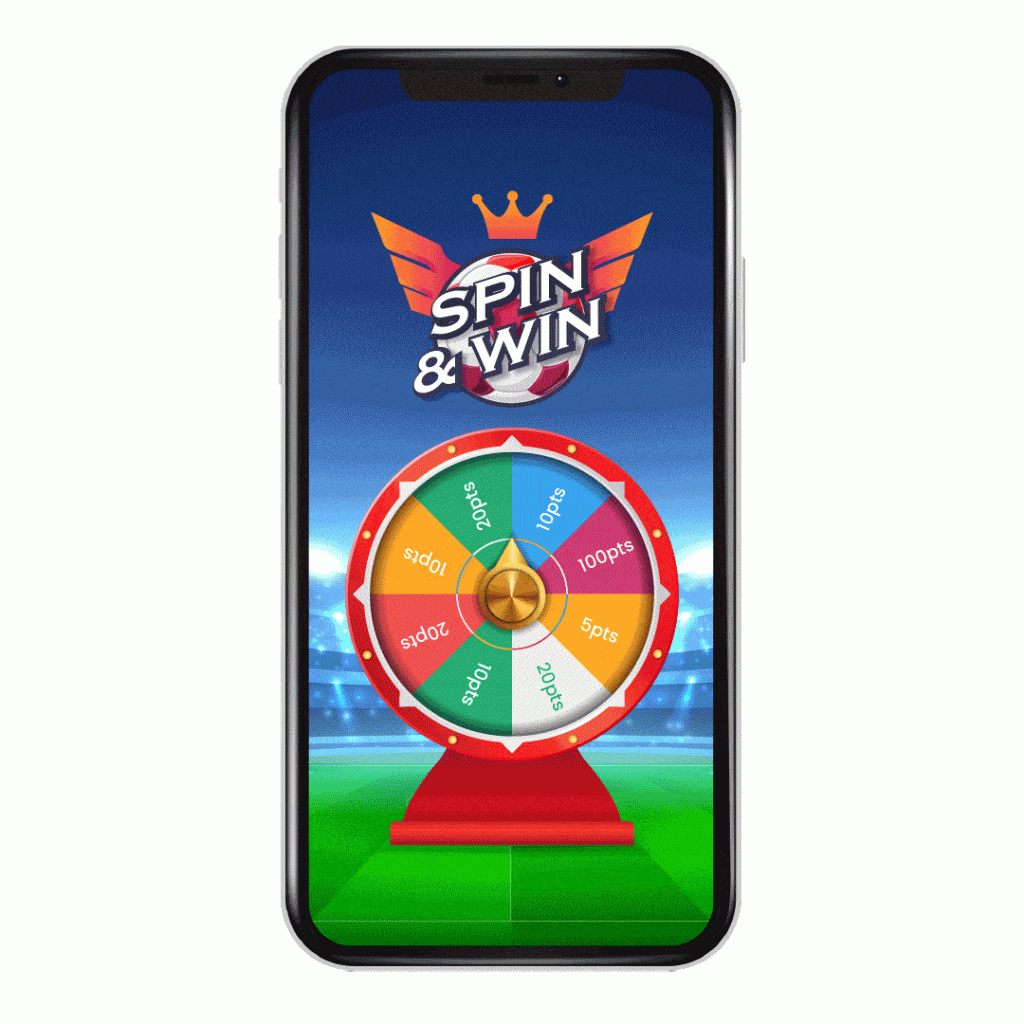 You likely have a mall app already. Why not integrate this very simple but fun game into it? This addictive game will surely make your shoppers want to log in to your app daily.  
With a digital Spin & Win game, your shoppers can now try their luck literally every day! The more they engage, the more they get attached to your mall. You can also put a QR code in your Christmas display so that they have a chance to spin the wheel for a prize. Surely, that will drive them to go daily if they just live near your mall.  
Don't worry about how to measure the success of this campaign. You can track real-time behavior from your campaign without the need for any POS integration.  
According to Harvard Business Review, an increase of 5% in customer attentiveness produces a 25% – 95% growth in profit. This shows gamification is necessary for the retail industry because games are an effective tool in getting attention, and ultimately building customer loyalty. 
An old reliable, Digital Stamp Cards takes advantage of our mind's tendency to focus on what's not completed. Humans have that inherent need to complete something and digital stamp cards fulfill that need.  
Unlike physical stamp cards that can be easily lost or forgotten, digital stamp cards are stored on a customer's smartphone or mobile device, making them readily accessible and harder to misplace.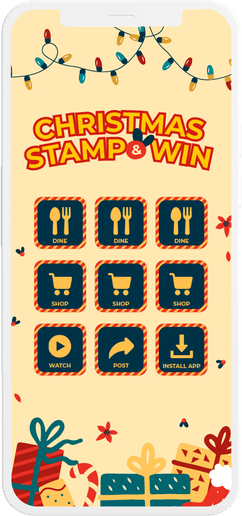 Additionally, digital stamp cards allow you and your mall tenants to gather valuable data on your customers' buying behavior, such as what products they buy, how often they visit, and when they redeem their rewards.  
With SKALE's digital stamp cards technology, you can create various Christmas-themed designs and offer stamps for completing certain actions. For example, you can give a stamp when they download your mall app. Or you can give a stamp if they take a picture of themselves in your Christmas photo booth or event and then they upload it on your mall app. Or perhaps they can simply take a picture of their receipt from your participating tenants, and they get a stamp in return.  
The possibilities are endless. These micro-actions will engage your shoppers and slowly build that engagement you want. 
The Christmas season is one of the longest so it's best to partner with your mall tenants to ensure your digital stamp cards campaign will be successful. At the same time, you also get to build a closer relationship with your tenants, and they'll be more open to joining your future mall campaigns.  
After several purchases that give your shoppers digital stamps, you'll have an idea about their preferences. And because you collected their personal details like email and cellphone number, you can now personalize your offers to them directly. 
So, for example, if they bought baby products, then the shop can now target them with discounts and other special offers that they are likely to consider. Use this example when you start getting your mall tenants on board your digital stamp cards campaign.  
Finally, if your mall is opening new attractions or new stores, you can incentivize your mall visitors to pay a visit and interact there using digital stamp cards. 
For example, maybe you have a new pet zone in your mall. You can ask them to visit it and take a selfie with their pet, follow you on social media, and tag you. They can get that digital stamp upon sending you the selfie proof. 
Make sure to have these three classic and evergreen gamification tools in your toolbox.  
If you have questions, feel free to drop us an email at [email protected] 
Alternatively, you can schedule an exploratory call using this link.